The Brook Theatre
is temporarily closed
Medway's iconic Grade II listed theatre is temporarily closed while it undergoes major improvements.
The Brook Theatre will undergo exciting and extensive refurbishment works as part of the programme to help regenerate Medway's City Centre. Investment in The Brook Theatre will ensure it plays its rightful role at the heart of Chatham, leading the growth in the evening and weekend economy.
The theatre closed on Sunday 2 April 2023.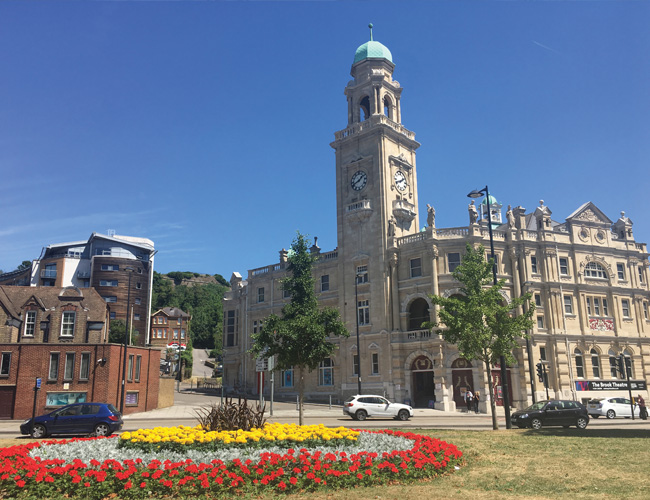 The Brook will be an inclusive and accessible city centre destination, offering an amazing public programme of performances and workshops that brings together our vision for Chatham. This includes creating new residential riverside living, animated public space filled with markets, events and public art and exciting food and social experiences.
The Brook will play a vital role in the growth of Medway's cultural infrastructure and creative sector. The refurbishment will enable emerging and thriving creative businesses, both locally and nationally, to flourish. The creative sector will have access to contemporary, affordable office and co-working facilities alongside digitally enhanced rehearsal, workshop and performance spaces.
Improvements being made to The Brook
Thanks to funding being secured by Medway Council, the huge programme of work will see a number of improvements at the theatre including:
structural works taking place over the next 12 months including ventilation, new lift and a number of improvements to either maintain or restore iconic heritage features around the building
full refurbishment of the main and studio theatres, foyer and bar areas, showcasing the incredible heritage of the building
new and improved access provision across the building for the public, performers and staff
new staging, lighting and sound equipment in performance and rehearsal spaces
new state of the art digital equipment and resources to support the production of contemporary performance connecting to the Docking Station
new and better office, co-working and meeting spaces for creative and community organisations
renovated and flexible rehearsal and dance studio spaces
improved and accessible dressing rooms for all performers
new toilets across the building.
Ongoing structural works will continue to take place over the next year to ensure the building is safe prior to the refurbishment works starting in summer 2024. Due to this, the theatre is expected to now re-open in autumn 2026.
We'll update this page with the latest news during the refurbishment period.
Events listing
There are no events scheduled at this venue.
The Central Theatre, situated just a short walk away in Chatham High Street, will continue to be open to theatregoers.
Check the latest shows at The Central Theatre including our Christmas Panto.